Best Credit Repair Companies – Honest Credit Repair Reviews and Actual Results
Best credit repair reviews – Are you interested in hiring a credit repair company to raise your credit score? Choosing the right credit repair company can mean the difference between thousands of dollars and hours of wasted time. There are endless amounts of credit repair companies out there, and they all claim to offer the same thing: a higher credit score at a low cost. But which of these credit repair companies truly do offer what they say they do? We have the answers. After conducting extensive research on all of the top credit repair companies out there, we have compiled a list of which ones are the best. Each service that we feature, we have actually used first-hand by someone in our company or by someone we know and the results have been documented. If you sign up with one of these services through our site we may earn a commission (but not on all). It is important that we are ethical, upfront, and transparent and that you can trust our reviews to help you make the right decision about which credit repair company to choose!
Phone: 888-968-6257
Sky Blue Credit
 is a reputable trusted company that has been repairing credit for many years. They are comprised of a team of credit specialists that are extremely courteous and professional. If you're looking for a credit repair company that has repeatedly shown successful results for years and years, then Sky Blue is a great option! How do we know? Because we've used them and we have proof of the results. That is why they are our
#1 choice
for credit repair. See actual deletions that they
have acquired for us
.
A Case Study
Our Founder of this site CreditRepairReviews.co, Charlie used Sky Blue and had over
30 deletions
! See more of Charlie's story
here
. Another close colleague of ours used Sky Blue with great results. After
7 months
, his Fico Score went from
601 to 733
with
17
deletions of negative items (4 of which were charge-offs). They have also helped other members of our team. See
more
of what Sky Blue has done for us! Visit their
website
 for more information.
Our #2 Pick | The Credit People
With years of credit repair success under their belts, the Credit People are up for the challenge to help you raise your score, and in turn, raise your status.
The Credit People
 are true professionals and they are one of the least expensive companies on our list. Get into their program for a low monthly fee, and boost your score today. You can even receive a free report and free credit score through their website!
How The Credit People Helped one of our Colleagues
We can attest that The Credit People's unique program is one of the fastest, best and most affordable restoration services available online. One of our colleagues tried the program (When their comapny name was DSI) with amazing results. They realized
18
deletions in total, including a
bankruptcy
! See our full testament of The Credit People on their
company profile
page.
Our #3 Pick | Credit Saint
The good news is that Credit Saint is a BBB accredited business. They also have an A+ rating. Other accolades include being top-ranked by Consumers Advocate, top-ranked by Prevent Loan Scams, by bettercreditblog.org, and of course now here on CreditRepairReviews.co. Lastly, they have an impressive 90-day money-back guarantee.
Our Results
We used Credit Saint Credit Restoration for
4
months, and they got
15
negative items removed for us. We have dealt with and have personally met the staff of Credit Saint as they are located locally in New Jersey, our headquarters. Credit Saint was able to get
21
deletions in the first round for one of our constituents in October 2015. 
Click Here
to learn more about Credit Saint.
Our #4 Pick | Lexington Law
Established as a leader in credit repair in the United States, Lexington Law provides professional services and proven results. What sets Lexington Law apart from most other credit repair companies is the fact that they are a law firm. With 22 lawyers working in 16 different states, Lexington has helped over 500,000 clients fix their credit over the past 20 years.
Another Real Case Study
We signed up with the Lexington Law program for
9 months
, and during that period we saw
19
negative items removed from our credit reports (4 of them were inquiries). See a more in-depth close-up picture of our
case study.
(look in the results section). We have recommended them to our peers as well as to consumers that reached out to us and weren't sure where to turn for help. Visit the
Lexington Law Website
.
Our #5 Pick | CreditRepair.com
Comprised of a team of credit repair experts, CreditRepair.com is a modern and proven-to-work credit repair company. Their advanced credit repair techniques and state-of-the-art technology will prove to provide one of the most successful credit repair programs out there. Their interactive website will 24/7 client access is sure to impress!
How they helped us
In 4 rounds of disputes, (about
6 months
), they deleted
17
negative items for us. We did not use the service that long and we still got really great results.
See more
of what they have done for our close constituents as well as how they have helped other clients.
Our #6 Pick | Ovation
Simple, fast, and effective: those are the three entities that Ovation promises to every client. Offering professional credit report repair, two different credit repair programs, and proven results, Ovation is definitely a top ten credit repair company in the United States.
What they did for us
We used Ovation Law for
6
months with better than average results. They did not produce as well as some of the other companies but we still saw
9
deletions disappear within the 6 months with Ovation Law. They realized
a bankruptcy deletion
for one of our friends' uncle. The deletion wasn't for us but we did recommend them to Ovation when he ran into debt issues and had to, unfortunately, file for bankruptcy. See our
full review.
Credit Repair
Credit Repair is your right
Making sure that your credit information which is being reported about you by third-party agencies is your right under the law. Although many people think that credit repair is not possible or that using an online credit repair company is illegal or may be a scam, the fact remains that hiring one of these online credit repair companies is completely 100% legal, and is your right under the Fair Credit Reporting Act (FCRA). Many consumers do not know but the FCRA actually supports your ability to dispute negative items on your credit report.
You have the right to double-check any information at all, that you feel is inaccurate, which is showing up on your credit reports. Remember that the three major credit bureaus are independent companies that are buying and reselling information about you to creditors, lenders, and banks. You did not ask for this credit information to be compiled about you but it is and the laws are in your favor to ensure the accuracy of this information.
Believe it or not, it is up to you and you alone to make sure that the information provided about you is accurate. If you feel that anything at all is not accurate, or looks even remotely fishy on your credit reports, you should dispute it immediately. If you don't recognize a particular item or a particular creditor; or even if your reported available credit line is not accurate, you should dispute it straight away.
Your credit report changes every single month. Every month your creditors update specific information about you and report it to the credit agencies. They update everything that they know about you including your account balances, inquiries, your recent payments, and existing credit lines, so you should be checking your credit report all the time to make sure that the all of the information is 100% accurate. We would suggest checking the information reported about you at least once every two months at the very least. To really keep on top of what is going on, you have 2 simple choices…
Choice 1: You do it yourself. You 100% most certainly can tackle this on your own. You would simply need pull your current credit reports and go over each of them very closely and look for any incorrect information. You would then dispute all of the erroneous information that you found by writing letters to the respective creditors as well as to the credit bureaus. You have the right to do it on your own and/or hire a credit repair company. If you have the time and patience, by all means do it on your own because you will save money.

Choice 2: Hire a credit restoration service. There are advantages to using a legit credit repair service if you do not have the time or know how to do it yourself. Some advantages are that they know the laws in each state. They know how to effectively write dispute letters that force the credit agencies to take action and lastly that they will work on your file residually and keep up on the process until the desired results are achieved. This list of the best credit repair companies was created to help consumers that don't have the time to work on their own cases and so that they can find reputable agencies that can perform the legal services that really work. We of course cannot fully guarantee what your own individual or personal results will be, but we assure you that all the services on this list are 100% reputable and will show you positive results.
Navigating Our Credit Repair Resources and Reviews
What's new on our site? (Updated 11-3-20)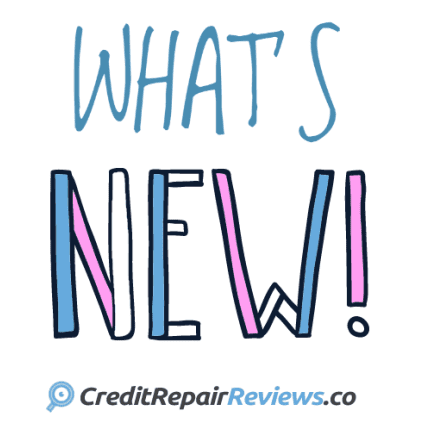 Just recently we just updated our Facebook page and have been posing helpful information when it comes to repairing credit.
Here are our 5 latest blog posts:
Having a good credit score is good because – Learn the benefits of having a good credit score. Some of these perks you will surely already know about but there are a couple of other benefits that aren't so obvious and may just shock you. Check them out today!
Piggybacking credit – This is a technique where you get added as an authorized user to someone else's positive credit history. Let us show you how you can raise your score 100 points plus within 30 to 60 days!
How to get an 800 credit score  – This may seem impossible and only the sky is the limit. But with our 11 tried and true tips, and we show you step by step how to reach for the stars and get the score of your dreams!
Sky Blue Credit Repair vs Lexington Law – Let's get ready to rumble! We have the tale of the tape and we finally settle this bought of which is a better credit repair company.
How to start a credit repair business from home – For all of you entrepreneurs out there. Here is the one and only insurmountable guide that will take you by the hand and walk you through actionable tasks, step-by-step, from A to Z, on how to start your own credit repair business.
Credit repair reviews | Credit repair resources reviews
See a list list of all credit repair companies in order from best to well, not so good.
Credit repair help
See our resources where you can get credit repair help. Here you will find answers to your credit repair related questions.
Before you get started, you may want to run through our thorough our 10 Step credit repair guide so you can get primed on what to expect when going through a restoration program.
Visit our blog for more answers to everything credit repair.
About us | Contact us
Learn more about us as a company.
Want to reach out to us? We love feedback! contact us today!
Here are our top picks for the top 10 best credit repair services
Our #1 choice is Sky Blue Credit Repair. See our complete review. Also, see actual Sky Blue Credit – Credit bureau deletion letters.
Check out our review of The Credit People. See The Credit People's deletions that they have achieved for us.
Another one of our top picks is Credit Saint. Here are Credit Saint deletions.
See our review of Lexington Law. Also, see actual Lexington Law deletions.
Another company that made our best credit repair companies list is CreditRepair.com. See CreditRepair.com deletion letters.
Last but not least, we have chosen Ovation Credit as a top credit repair company. Here are documented Ovation deletions.
Geotargeted Reviews
Do you live in NJ? So do we! Here is our section for credit repair in NJ. Find companies in NJ with full reviews.
What to look for and watch out for when choosing a credit repair company
Due Diligence
Use due diligence and do research about the company.
Our site helps you to do just that.
The credit repair company should have good reviews
Choose a company that has a lot of experience with repairing credit.
The company should have a positive track record online with few or no negative reviews and should have a positive track record with the BBB.
Money-back guarantee
Choose a company that is willing to back up their brand with a no-nonsense moneyback guarantee.
Make sure that they do not charge upfront fees
Never hire a company that charges you upfront fees.
It is for your protection that credit repair companies must start and perform some work for you before you pay them.
There is no such thing as guaranteed results
Beware of false claims of guaranteed results. There is no such thing as guaranteed results not just in credit repair, but just about with anything in life.
Is the pricing reasonable?
Make sure that the pricing is reasonable and affordable.
Free consultations
The company should offer free consultations and absolutely should not have pushy salespeople.
If you are feeling like you're being pushed into something, chances are that you are, and chances are that that something is not in your best interest.
The one company that we can attest to that checks all these boxes is Sky Blue Credit Repair
Also, see actual Sky Blue Credit – Credit bureau deletion letters that the company has achieved for us.
Our reviews of the best credit repair companies are 100% real and are backed and verified by real actual results that we have received by paying for and using these companies firsthand.
Thank you for visiting and trusting our site.
We're glad you're here!
And we hope we can truly help you to make an educated choice with repairing your credit and improving your financial future.