Does Sky Blue Credit Repair Really Work
So this is the question of the hour. Does Sky Blue Credit Repair really work? We get this question a lot about all of our different credit repair companies.
But it seems like Sky Blue Credit gets the most queries.
The simple quick answer is yes.
But we would like to talk about that in-depth, so you can use due diligence, and so you can make a sound decision on your own.
Sky-Blue Credit Repair has been in the industry for over twenty years.
And essentially they have been doing the same thing over and over.
The same routine. The same system.
Why do you ask?:
Because the strategies and systems that they use really do work.
Sky Blue uses tried and true sound strategies that really work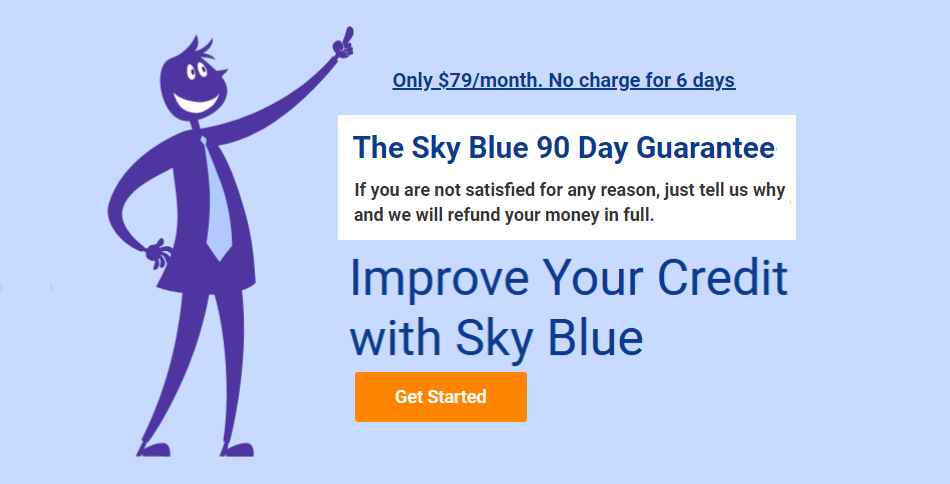 Let's discuss the basic strategy first and then we'll talk about why and how this company really does get the job done for its clients.
In reality, credit repair simple
It is your right by the law.
According to the Fair Credit Reporting Act, all of the information reported about you to the credit agencies must be 100% accurate.
If it is not accurate, it must be removed from your credit reports.
It's that simple.
So all you need to do is write a letter to each of the credit agencies and asked them to prove that the accounts are yours, or asked them to remove any outdated information.
That is the basic just of what Sky Blue Credit will do for you.
Can you do this yourself?
Absolutely.
You can do it for yourself, and you can negative items removed from your credit reports, you can raise your credit score all on your own.
But here's the small caveat:
There are a lot of factors that go into what gets removed and what remains on your credit report.
If the credit agencies verify the information or if they investigate and they realize that the negative items are actually yours, they probably will not remove the items from your credit report.
So there are cases where credit repair may not work for everybody. Especially if you do not know the secrets, the ins, and outs or professional tried and true strategies.
That is why using a professional credit repair company with experience could prove extremely useful.
But let's be 100% transparent.
Depending on each individual's unique case, it may be difficult to get any items removed. Whether you're doing yourself or whether you're hiring a credit repair company.
So while yes, we are extremely confident because of our own experiences with Sky Blue Credit that they can get the job done and that their credit repair system really does work, there still may be times when they might not be able to help.
So yes again, there may be cases where Sky Blue Credit, may not be able to get the job completely done.
We want you to fully understand both sides of the coin.
How hard (or easy) is it to get negative items removed?
In most cases, the less amount of negative items that a client has, percentage-wise, the harder it is to get removals.
This is just basic common sense really. If you only have two negative items total, your only chances on removals are zero of two removed, one of the two removed, or both removed. So are there are not very many variables.
You can dispute these items over and over, but being that there are such a few amounts of items, chances are that after your fourth or fifth dispute credit bureaus will deem them as frivolous, and basically stop investigating altogether.
So if you only have a few items, we highly recommend using Sky Blue Credit, because they're going to be your best chance because of their experience with dealing with very few items for single clients.
To use a baseball analogy, your only going to get some money at pasts with just a few derogatory items. You might also put your biggest sluggers up to the plate.
On the other hand:
If you have a lot of negative items on your credit reports, it's much easier to get items deleted.
Is the simple law and average of numbers.
You will have a much better chance where and disputing many different negative items because the chances of a couple with them getting removed is higher.
The chances of more things being wrong are higher because there are many more variables within the numbers.
The same thing is similar with losing weight.
If you are 6 feet tall your goal weight is 200 pounds and you start at 300 pounds, it'll be a little easier to shed your first 20 pounds.
But if your goal weight is 200 pounds in the same scenario, and you start at 220, it'll be much more difficult to trim down those 20 pounds because the closer you are to your target the harder you have to work.
But in either case, remember it is your right by the law for you to at least question every single item on your credit reports.
So why not dispute them?
Let's rephrase that.
Definitely dispute them. And make sure to dispute them all.
Other variables to consider
co
Another variable to consider is whether or not the item is easily verifiable by the credit bureaus. If they can easily verify the item and it looks 100% like it's yours, the less likely your chances are of getting the items removed.
Some stubborn items include charge-offs, state tax liens, bankruptcies, and pretty much anything to do with the IRS.
But, anything can be removed. So if you do have stubborn items, don't get discouraged, there are still some good strong strategies to getting any bad negative items that are currently appearing on your credit reports removed.
Yes, Sky Blue Credit Works: Here's Why
It's not the fact that they have been a thriving profitable business that has been around for over two decades and has a great rating and no complaints with the BBB.
It's not the fact that they have one of the best money-back guarantees in the industry.
Because that really does not really help you as a consumer.
Why doesn't it help you?
Because ultimately, you do not want your money back.
You want your credit repaired and you want a good credit score so you can go out and get a loan and buy your car, house, or whatever.
The trick is:
The trick is to be persistent.
This is one of the reasons that Sky Blue Credit is a great choice for getting your credit repaired.
They know how to dispute on a persistent level with different viable legit reasons.
If the credit agency confirms the negative item, Sky Blue knows what to do to legally rebut the agency and try to force them to act to remove the item.
They will not lie down to the credit bureaus.
That is why they work.
You deal with your every day-to-day life, your problems and concerns, your job, and your family, and let Sky-Blue Credit work on continuously disputing month by month to the credit bureaus on your behalf.
There is a monthly fee of $79, but they do all of the work for you.
And trust us, even if they get just a few deletions, their monthly fee is worth its weight in gold.
There are a lot of other great reasons to use them as well.
All you have to do to get started to be ready and willing to take action.
Here are some other reasons that make them different (better)
Because of these reasons, in our opinion, Sky Blue Credit Repair is a great choice for credit repair.
They offer a professional analysis where they look deep into your credit report and what they can dispute for you.
They catch all the little things that other companies do not look for.
As an example, if you are in default or late with the credit card payment, collectors are required to stop reporting if they sell the account to another collection agency.
If there are multiple collection accounts reporting the same exact that, on a single credit account of yours, they must be removed. Sky Blue Credit is well aware of that, and they catch a lot of these little types of mistakes.
Catching the hard to spot situations that are not compliant with the law and disputing them, and ultimately getting them removed will raise your credit score very quickly.
This is more proof positive that the sky-blue credit repair program really does work.
They dispute at least five items per credit bureau every 35 days. So in essence, because there are three credit bureaus, they will be disputing 15 or more items every month.
This helps expedite the process, to get these items removed quicker.
They help each individual client with understanding their scores and with giving them tips to raise their scores with their personalized Score Assistance Program.
Sky Blue Credit also helps with guiding clients on how to rebuild their credit during the process.
This includes applying for new credit cards or managing their existing balances.
Lastly, this is one of the only credit repair companies that offer extra services without extra charges.
Included in the services are debt validation, goodwill letters, as well as writing and sending cease and desist letters on your behalf.
The program is extremely easy to get started with
You may cancel or even pause at any time your account. So if you need to pause for a month or two to catch up that is perfectly fine.
You can resume your account at any time.
There are no long-term contracts, you can cancel at any time without any penalties.
Sky-Blue Credit also offers a half-price discount for the second member if you sign up as a couple (team). This includes a friend, family member, spouse, or loved one.
See our complete review of Sky Blue Credit. Also, see actual deletions that Sky Blue has had removed from the credit bureaus.
Visit the Sky Blue website for more info
How it Works
When you sign up, there is no charge for six days.
During this time they will set up your account and start getting to work for you immediately.
Then after the six-day duration, your first charge of $79 will be placed on your card.
They will then send out the disputes for you.
By law, the credit agencies have 30 days to respond to the dispute letters that were sent by Sky-Blue Credit.
If they do not get around to it in time, or within the 30 days of course, the items must be removed from your credit report.
Or if they do actually take the time to examine the dispute, they by law have to send you your results in writing.
As soon as you get the letters back from the credit agencies, just simply forward them to Sky Blue Credit.
A professional team member will then add all the information to your dashboard, where you can access the latest happenings on your file, they will update your account, and then they will re-dispute for the next round any other negative erroneous items that are still appearing.
Get started and watch the negative items go down and your sore go up.