What is Sky Blue's Overall BBB Overview?
 As far as credit repair companies go, it's pretty good
Sky Blue Credit has 23 5-star reviews out of 24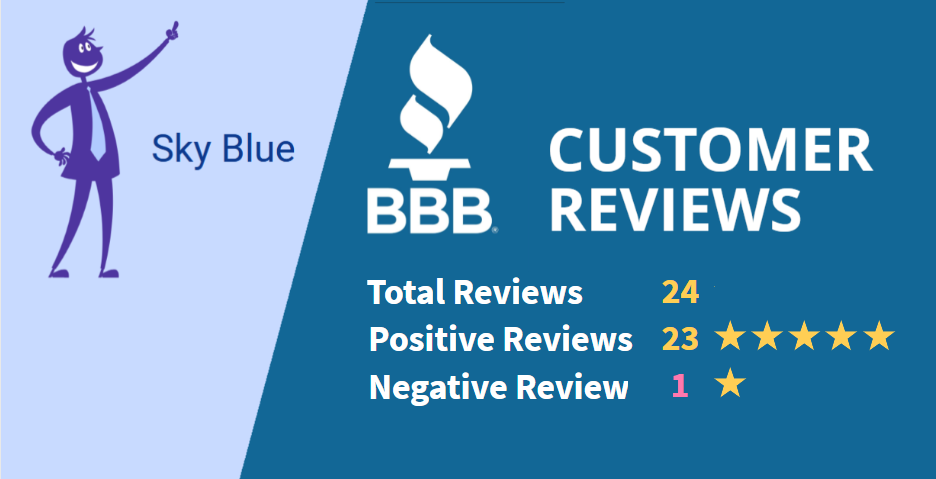 Only 9 complaints in 20 years
For a company to be in business for over 20 years and have only 9 complaints of which 5 were resolved is extraordinary.
They get the job done with realizing stubborn deletions
Here is a tax lien that they were able to get removed for us.
Here is an American Express creditor deletion letter where American Express removed the baddie.
See all Sky Blue deletion letters that we have on file.
View the Sky Blue Credit website
Understanding the BBB ratings
The Better Business Bureau uses a letter grading system as a metric of confidence that consumers can have in a business.
The grading system is similar to that of school A+ through F
The grading system is much similar to the ones that we grew up going to school. The system uses an A+ through F letter system. Just as in school and A+ would be the best grade and an F being the worst.
Simply put the grading system is a way for consumers to understand the trust factor within a company is that the company will make a good effort to resolve customer concerns that have been filed with the BBB.
17 different factors go into the grading system
According to the BBB, the system has an algorithm that uses 17 factors. Some of the factors include the type of business, how long it's been operating, conformity to licensing, and the number of overall complaints that have been filed against the company.
Some of the more important factors in the grading system include the number of unanswered complaints compared to unresolved complaints. Obviously the BBB is looking for complaints that were resolved in a timely manner.
The ratings are not guaranteed in any way
The BBB does not guarantee anything related to the grading system. The system is for consumers to use due diligence when choosing companies. Great simply represents the degree of confidence of the business and if they are operating in an ethical manner, but most importantly consumers would need to have trust that the companies in question would make a really strong effort to resolve customer issues.
What is Sky Blue Credit's BBB Rating?
Here is the Sky Blue Credit Repair BBB rating. 
A+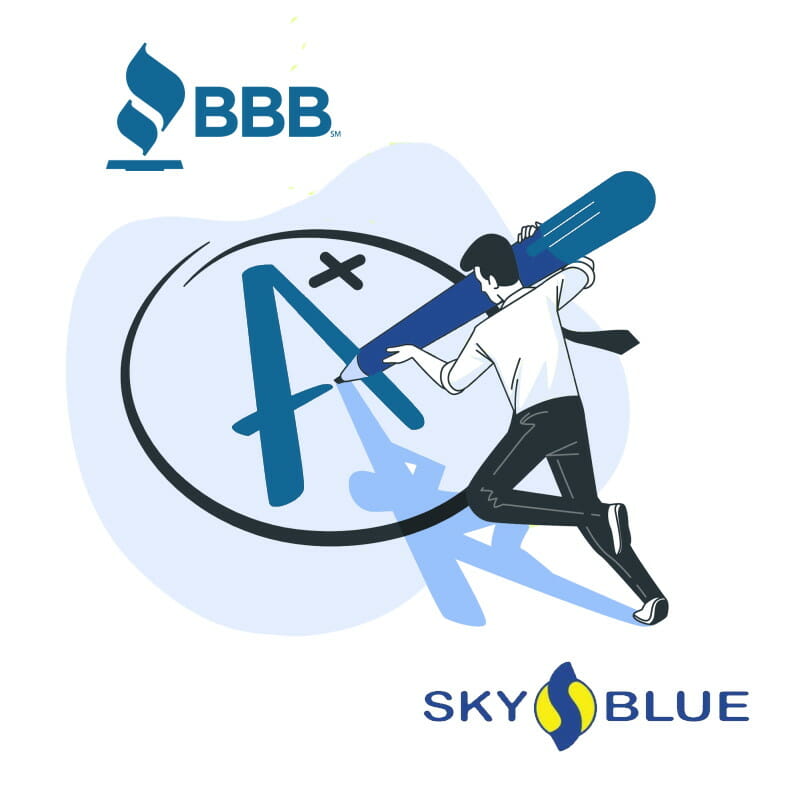 Although Sky Blue is not accredited with the BBB, they have a letter grading rating of an A+. According to the BBB, there are cases where they will not rate the business when it is not accredited. Two simple reasons are that they don't have enough information about the business or they just haven't gotten around to adding a grade for the business.
Just because you do not have a rating does not mean you are not a legit business. There is speculation that accredited businesses that pay for the accreditation, get ratings implemented quicker, but we feel that this is not true and that the 2 are not correlated.
See more information about being BBB accredited below.
Sky Blue Credit is Uncredited by the BBB
What does it mean to unaccredited 
The short answer is that the company in question, in this case, Sky Blue Credit Repair has not paid the BBB accredited business fee.
How does the company become accredited 
According to the BBB website, the business becomes accredited under 3 conditions.
The 1st is that the BBB warrants that the business is reliable enough to even achieve accredited status. They come to this realization by doing general research, to make sure that the company is actually legit and worthy of being accredited.
The 2nd criterion is that they feel that the company is willing to make strong efforts to interact with consumers in reply to their complaints in a very timely manner.
There is a fee to become BBB accredited
Lastly, the business must pay a fee for what they call "accreditation review". They claim that this fee helps cover expenses for monitoring and compliance as well as the support of the BBB services to the BBB consumers that are visiting the Better Business Bureau website.
Being accredited does not mean that the Better Business Bureau has done full research on the company's services or products. Nor does the company get any kind of other endorsements from the BBB.
It's important to note that businesses have no obligation to seek accreditation from the BBB.
Visit the Sky Blue Website for more information on how they can help you.
Sky Blue has the Best Money-Back Guarantee…Period!
Why should you ultimately choose Sky Blue Credit?
Whether accredited by the BBB or not, there is one thing that cannot be denied, and it is a very important detail that should be very important to consumers.
Ready? Well, Here it is
Sky Blue has the best 90-day money-back guarantee that we have ever seen for an online credit repair company.
Best Guarantee that you will find in the entire industry


If you are looking for a trusted partner to help you, here they are!
We've been in the credit repair industry for over 15 years and trust us there are a lot of companies out there that are not as integral as we would like to admit, but Sky Blue Credit is in a league of its own when it comes to giving consumers their money back if they are not 100% satisfied.
They go that extra yard to build trust
They are so invested and determined in their product and service that they are willing to put a no-nonsense guarantee on the line for all of their clients.
They, of course, are not going to be able to help every client as quickly as each client anticipates, and/or they might not produce the results that their clients are anticipating, and they know that.
And if it does happen, they are willing to do whatever it takes to make the client happy. Whether it be giving them extra rounds of disputes for free or simply just giving them their money back. They are all about building trust. And they're all about doing the right thing. There is not enough that can be said about this kind of goodwill in this industry.
Sky Blue Credit Repair Program Pricing
There is no charge when you sign up.
They then immediately add you to their system and start working on repairing your file.
After the 6 days from when you first actually signed up, a $79 first-work, set-up fee will be charged on your card.
Then, every thirty days from your first work fee was charged, you will be charged $79. You can quit at any time.
Our Score of Sky Blue | 9.4 out of 10
We use our own algorithm
We do not use the A+ through F scoring system as the BBB does. But we do have our own algorithms and how we score credit repair companies. See the criteria of how we rank the companies here.
We work hard to be a dependable and credible resource
We are not just a run-of-the-mill review website. We have worked hard over the years to collect actual data of real results that we received in-house from trying the services firsthand.
There is way too much erroneous information on the Internet, where consumers really have no clue of where to turn when they're looking for help.
Real verifiable data
It is our company's mission to give consumers unbiased, real-time data, and real verifiable reviews that they can trust. See actual Sky Blue deletions that they have achieved for us.
Consumer Affairs
Sky Blue Credit is an accredited partner with Consumer Affairs and has many positive reviews with them.