Credit Saint Reviews – Full Case Study With Real Client Testimonials and Proof of Real Results
This New Jersey-based company is a well-known and trusted brand. They fully back up their service with a back with a 90-day, money-back guarantee  Check out the Credit Saint website.
Results
After four months in the program, credit Saint was able to realize 15 deletions of negative items. Three of the deletions were charge-offs. In the first round of disputes, they were able to get 6 items removed. See the actual 6 items removed from TransUnion.
For one of our constituents, they had 11 items removed in one round of disputes and one was a New Jersey state See actual tax lien, which is very hard to get removed. Three others were stubborn collection accounts.
Overview
Their Clean Slate program is one of the better aggressive credit repair programs for quick turnaround
One of the best things about Credit Saint is that in their Clean Slate Program, where they dispute all negative items on each and every credit report in the very first challenge (dispute) cycle. Most other services will only dispute 6 items per credit bureau. By doing this, Credit Saint increases your chances of getting a lot of deletions on the very first round of disputes, especially if you have never disputed with the major agencies before.
The logic is simple.
Let's say you have 10 negative items on all three bureaus (10 baddies each), that would make 30 negative items total. By disputing all 30 in the first round, they increase both their chances to show you results and ultimately their chances to get deletions for you right away. Most companies will only dispute 5-10 total items (not all 30) in an effort to keep you in their program longer. Some claim it's safer to go low and slow as to not raise any red flags.
But we feel it's actually a very smart business move for Credit Saint to show clients more deletions now rather than later. However, there is one caveat. The Clean slat program costs a little more. They do have less expensive programs as well. Keep reading to get to pricing!
Service
With Credit Saint, you will get your own credit team which will consist of a group of professionals that are assigned to your case. All clients receive monthly updates so you can always be on top of what has transpired on your case as you go through the program. You'll also learn what you should be doing on your end to build positive credit history while they work on repairing your credit.
Features
The 90-day money-back guarantee says it all!
Credit Saint has a worry-free service 90-day money-back guarantee.
Fast results with their Clean Slate package
If you want fast credit repair, this (The Clean Slate package) is absolutely your best. See pricing below for more details about this package.
Even better if you are a local NJ resident because they are located locally in northern NJ in Saddle Brook, NJ. You would then have the ability to meet with them if need be.
Offers a 90 day money back guarantee

Online portal to manage your account

Free credit consultations
3 different services. Why not just one?

Service not available in all states
Specialists with over 16 years experience

Can get stubborn items removed

Disputes many items at once
Doesn't have a phone app yet
Credit Saint Credit Repair Cost
3 programs to choose from:
Polish Program is $99 first work fee and then just $79.99 per month.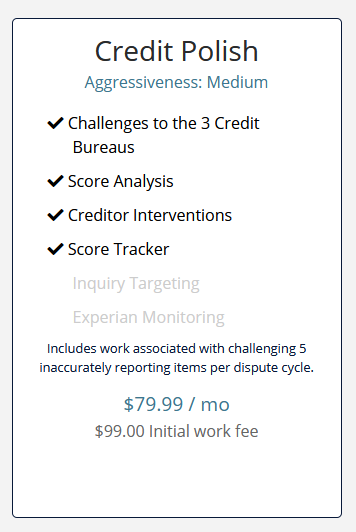 The Remodel Program is $99 first work fee and then just $79.99 per month.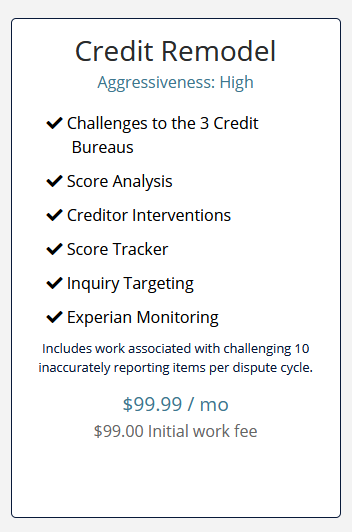 Clean Slate Program is $195.00 first work fee and then just $119 per month.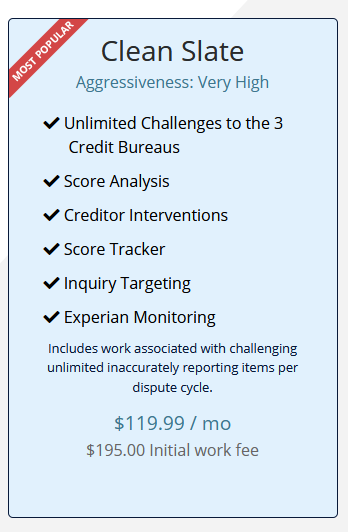 The main difference between the entry-level "Credit Polish" package and the middle-level "Credit Remodel" package is that you do not inquiry removal targeting and Experian monitoring with the entry level "Credit Polish program". Whew, I know, they should just eliminate one of these to make life easier.
The main differences of their top package which is named the "Clean Slate" program are that they will dispute more items per round to expedite the process and they will be very aggressive in getting bankruptcies, repossessions, and judgments removed.
If you don't have those issues, then you could choose one of the smaller packages.
Rating | 8.4 out 0f 10
Were a little bit privy because this company is located so close to us. We have the ability to see firsthand how this company operates. This is a very strong score in our algorithm. Credit Saint is highly recommended.
Actual Credit Saint Reviews and Testimonials
Here are some real Credit Saint reviews from real clients!
Excellent Results. I've been in Clean Slate for about 6 months. and the change is incredible. I had about 89 negative items (they called them) and now I'm down to 16. Items removed consisted of Tax liens, judgements, collections and late payments.
I am an attorney and know local people who supposedly do credit repair. But I was not going to take a chance with my credit score. Credit Saint has been just great… my score rose to the low 700's. I receive immediate replies to my e-mails and am always able to talk to someone by phone if I need to. The credit reports are always responded to same day. They are even honest about which billing plan works best for you. Highly recommended!
Choosing Credit Saint is the best decision I ever made. They raised my score 115 points in 5 months and now I am able to buy a house (with 6% finance). I have recommended them to everyone I know because they really are that good. They are a great team of people and always so nice and understanding when you call. THANKS SO MUCH CREDIT SAINT
I noticed a billboard on the turnpike for Credit Saint. I did some research and saw the testimonials from clients and decided to request more information. I received a phone call 10 minutes after putting my request in. The person I spoke with was extremely polite and professional and answered all my questions. During the whole process I have received email updates and phone calls making sure I was pleased with my service. Credit Saints' customer service was amazing and everyone I spoke to was helpful and polite.
I began working with Credit Saint in May of 2014 and my credit score was around 515. They immediately worked on removing blemishes and mistakes I made when I was younger. I received my reports with the corrections and blemishes removed. With a little effort on my part and paying down some balances, the results were amazing. By July of 2014 my credit score had jumped to over 650. My family and I can now list our home for sale and purchase our dream home.
I almost didn't ask for professional help. I'd failed to get the credit bureaus attention with my own dispute letters and assumed that no one else could do better. Boy was I wrong. The difference in the responses from the credit bureaus was night and day from my own work to the results that Credit Saint got. In just the first "cycle" I saw changes to my credit, and then later I saw changes to my score. BIG CHANGES. Items removed consisted of Judgements, late payments and collections. I thought I was just stuck with this stuff even though I thought it shouldn't have been there. Once they started I saw changes on the first reports I received. They were careful not to promise me anything, other than the 90 day money back guarantee, but the work speaks for itself. If you're unsure who to turn to with credit problems, I'd call them and have a conversation with someone. I think you'll be surprised with how knowledgeable their team is.