Our Results – What Has Sky Blue Done For Us
Here we will show actual proof of what Sky Blue has done for us as well as what they have accomplished for other clients.
A Note from the Owner of CreditRepairReviews.co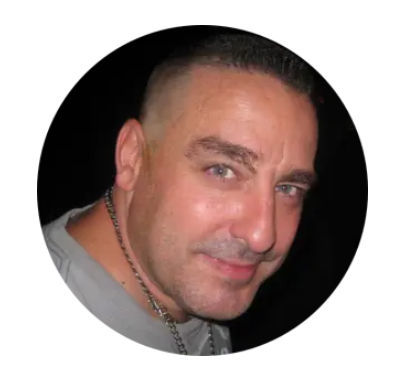 My name is Charles Daidone and I am the owner of CreditRepairReviews.co. My relationship started with Sky Blue Credit when I fell into some trouble personally and needed help with my credit. At the time I didn't know what credit repair was but I was lucky enough to find this company.
After I got through the program I decided to help others. All of the results on this site are the actual real numbers of deletions that were documented at the time and credit score (Fico Score) improvements are real before and after.
Real verifiable credit bureau deletion letters 
The actual deletion letters posted on this site are letters from the credit bureaus that were either sent directly to myself, my friends, or my constituents. (Unless otherwise noted). See actual deletion letters.
Below is what Sky Blue Credit Did For Me 
I was in the program for a little over nine months. I had over 60-65 negative items on my credit reports including 3 NJ State tax liens. On average, I had about 20 derogatory items on each of the three credit bureaus.
Sky Blue realized over 35 deletions for me during this time.
Tax Lien Removal
This is the actual extremely stubborn tax lien that they were able to get removed.
Here are Some of The Actual Deletion Letters
In these actual results, there are 19 of the 35 total deletions that Sky Blue realized for me.
Click on the images to make them bigger
Another Quick Positive Case Study
Since my experience, I have recommended Sky Blue and have signed up at least 7 family members, over 10 friends, my wife, and 4 colleagues. This is the true story of my beginning of helping people with credit repair.
In order to genuinely evaluate (and truly validate) Sky Blue's services, as mentioned above, I referred one of my staff members and persuaded them to sign up for their service. The results he received were also great!
Within 7 months, Sky Blue was able to delete 17 items from his credit report and raised his score from a 591 to a 733 (on Experian)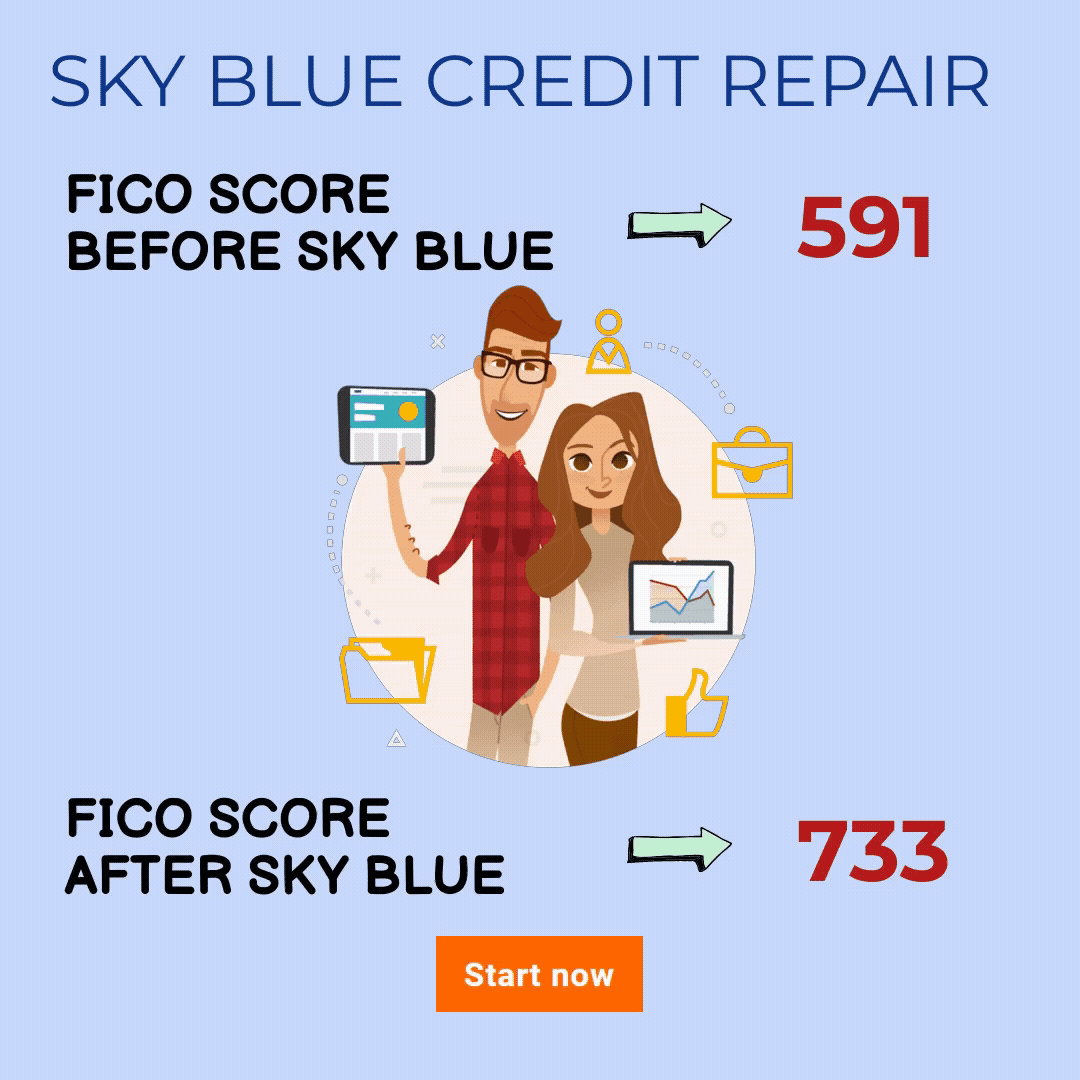 The numbers are real and they speak for themselves; Sky Blue is proven to work!
Another really good thing about sky-blue is that they don't just dispute with the credit bureaus, they actually send letters to the creditors themselves! Click here to see an actual Sky Blue creditor deletion letter from American Express.
Please take the time to see all of the Sky Blue deletion letters that we have on file.
Overview of the Sky Blue Credit Repair Program
Sky Blue is a top well-known branded company. After over 10 years (and running) of researching and trying different companies, we feel Sky Blue is the best overall credit cleaning business in the industry. Sky Blue is a very reputable credit restoration service that many of the baby boomers have role-modeled and emulated.
Get a trusted guarantee and expedite raising your score. Try Sky Blue!
A+ BBB Rating 
Acclaimed by its exceptional Better Business Bureau rating, Sky Blue has been repairing credit successfully since 1989. By conducting numerous rounds of disputes every month or so, Sky Blue guarantees a fast-paced program with an extremely intelligent process. In addition to providing credit repair services that have beenproven to work, Sky Blue offers its clients intelligent guidance in order to ensure a continued good credit score.
When you call Sky Blue at 888-968-6257, you can be sure to not be sent to an automated service; you will be directed to a real customer service rep! No matter which state you are located in, Sky Blue is sure to raise your score, and as always they will offer you a money-back guarantee if you're not satisfied!
About the Sky Blue Service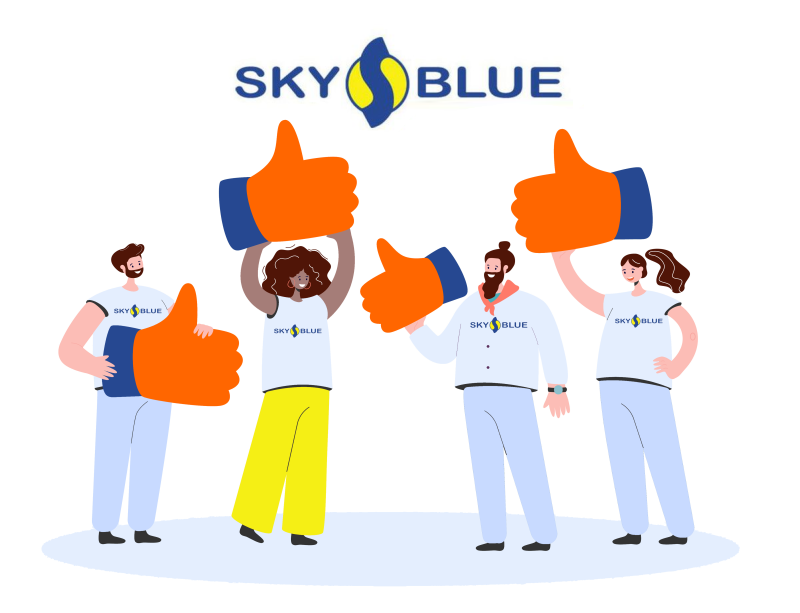 A Professional Analysis of Your Credit Reports 
When you sign up you will get immediate top-level service from experts that will do a deep analysis of your credit report. They are notorious for finding hard-to-spot compliance issues that could be hurting you. They do not enter you as a number into software as some other companies do.
Dedicated to personalized credit repair services, Sky Blue is a firm believer in the fact that every situation is unique. Therefore, they provide each of their clients with customized disputes, statute of limitation research, and credit score optimization advice.
From start to finish, Sky Blue will closely analyze your credit, beginning with a line-by-line review of your credit report. Their services are not just limited to disputing errors with the credit bureaus; they will work with you to ensure that your credit score gets fixed and stays fixed. The best part is, everything is included in a low monthly fee of only $79!
How does Sky Blue stack up against its biggest competitor?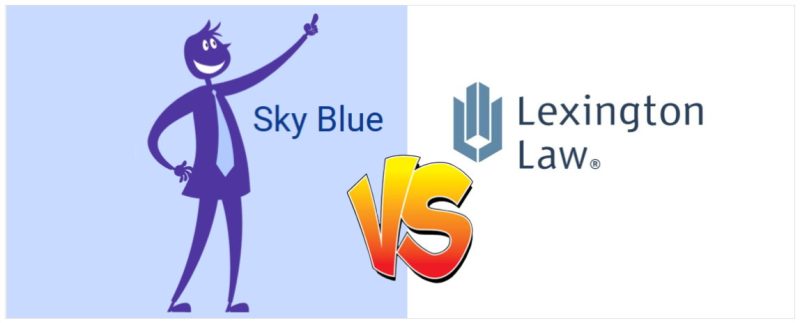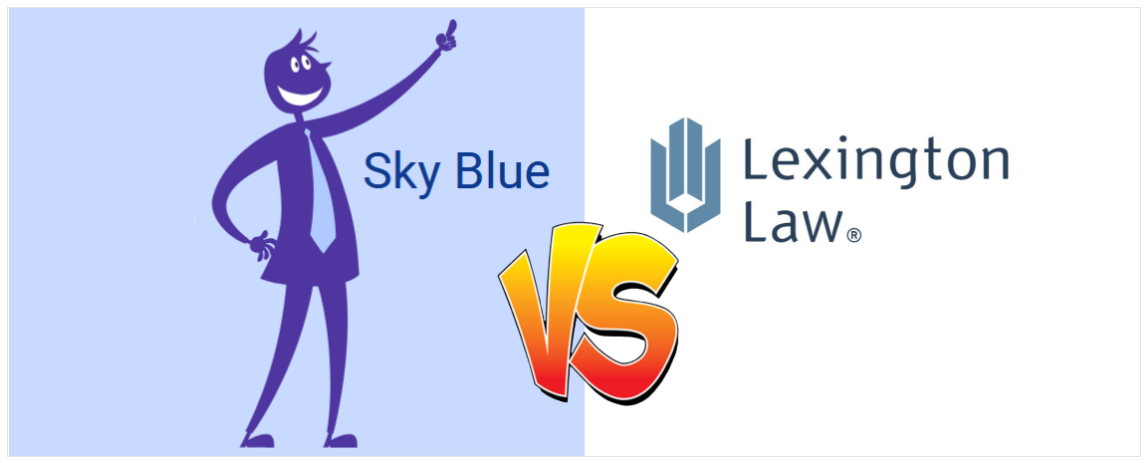 There is another big player in the credit repair space and they were one of the first pioneers in the industry. We took a close look and went in deep with in-depth comparisons of both companies.
See the match-up up close and personal in our case study of Sky Blue Credit vs Lexington Law.
Services You'll Get | All Included For Their One Low Price
They Analyze Your Reports With a Fine Tooth Comb
Sky Blue Credit will find the subtlest discrepancies to dispute on your reports which will give you a better opportunity to raise your scores.
They Have Industry Fastest 35-Day Dispute Cycles
Most other credit repair services dispute on a 45-day dispute cycle. Not Sky Blue. They start on your disputes fast and they stay on that fast pace.
Your Disputes are Customized to Your Situation
As each clients credit situation is unique, Sky Blue does not create automated dispute letters.Their dispute and re-dispute letters are fully distinctive.
Statute of Limitation Research and Execution
The SOLs is a law that sets the maximum length of time that must transpire in which a debt collector can sue you or collect a debt owed from you.
You'll Get Help on How to Optimize Your Credit Score
Sky Blue will analyze your credit reports thoroughly to identify distinct actionable strategies you can carry out to fully optimize your credit scores.
Get Help From Sky Blue With Opening New Credit Cards
Sky Blue will assist you in getting new credit card accounts and how to manage them effectively so you can start rebuilding your credit quickly.
You Will Always Have a Pro Credit Expert at hand
Whenever you have questions about anything you will be able to schedule a coaching session or a coaching call at will. Sky Blue offers top level support.
You'll get Help With in Getting Free Credit Reports
When you sign up Sky Blue will assist you in getting your 3 bearer credit reports for free. Getting your reports will not harm your credit score
Need to Take a Break and Skip a Month? No Problem
Sky Blue has you covered if if you want to simply take a break. You can pause your monthly membership at any time with one quick click of a button.
What Makes Sky Blue Credit Repair Different?
What really makes Sky Blue Credit repair stand out from its competitors?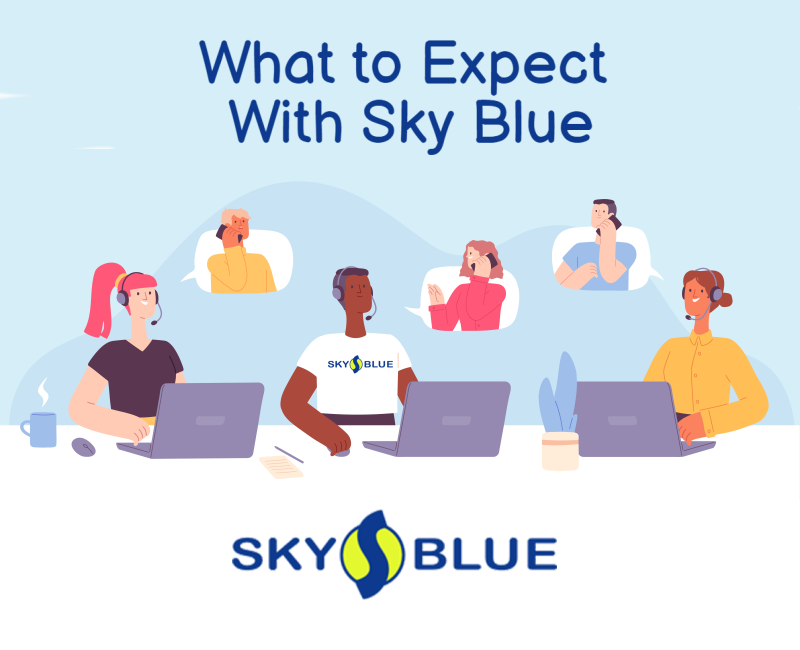 When you sign up with Sky Blue here is what you can expect.
90 Day Money Back Guarantee – The Only Condition-Free no-nonsense no questions asked 90-Day Refund Policy in the industry

No Pressure – You can get an absolutely free, no pressure, no sales pitch consultation of solid advice without being pushed into buying the product

Everything is included for one low price – All credit repair features are included. There are no upsells or extra charges ever. This includes goodwill, cease and desist, and debt validation letters.

Flexible payment programs – Where you can pause and resume your service at any time!

Couples (partner) (friend) discounts – A very generous couples discount where you can add your partner at half-price

Fastest Turnaround in the Industry – 35-day dispute cycles. Competitors have a 45-day cycle.

Top Class Support – One of the best no pressure customer support teams in the industry

Top Level Education – A large collection of credit repair information chock-full of tips tutorials and much more

Rebuild Your Credit – Help with rebuilding your credit at no extra charge

A+ BBB rating – Very few complaints in over 25 years of service

No Long Term Commitments – You can quit the program at any time with no penalties
Features of the Program
As one of the leading credit repair companies, Sky Blue offers a variety of helpful features. With Sky Blue, you can ensure a secure online experience. Though their headquarters is located in Delray Beach Florida, Sky Blue serves all 50 states through their online system.
Great Online Portal
They have a state-of-the-art proprietary (very user-friendly) portal where you can sign in, manage your account and see progress easily.
Absolute Best Guarantee in the Business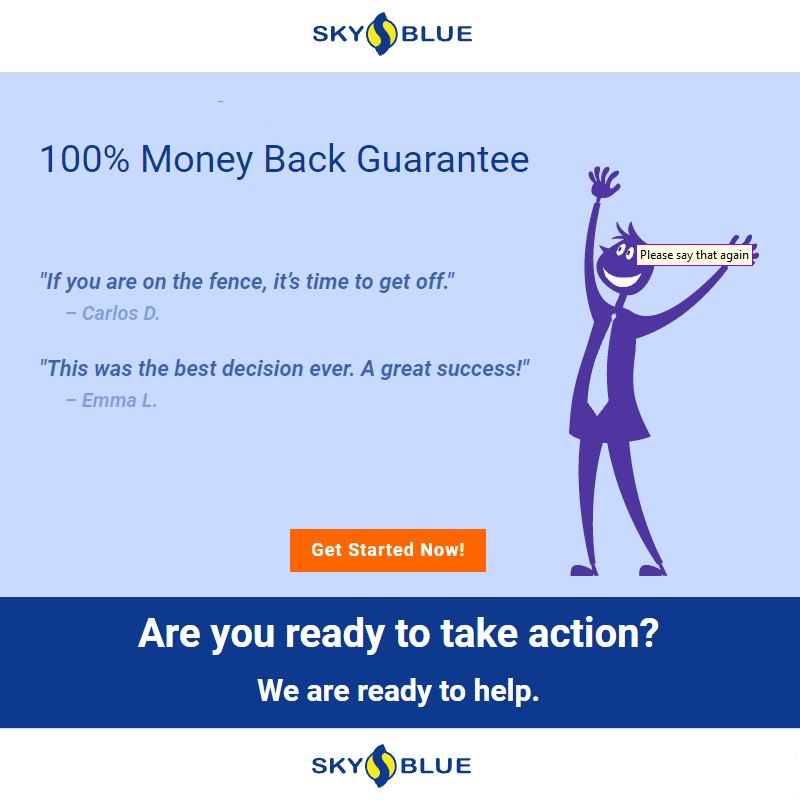 No company can offer an ironclad guarantee. But Sky Blue Credit comes pretty close. There is no fine print. If during the first 90 days of membership, you are not happy for any reason, they will give you back your money in full with no questions asked. This is unheard of in the industry. It is one of the variables in our algorithm that makes this our number one choice of the best credit repair company.
They Get Stubborn Items Deleted 
If you're looking to get difficult items like tax liens removed from your credit report, then Sky Blue is your best bet. When you enroll in Sky Blue's program, you will also receive debt validation and a risk-free guarantee.
Fastest Dispute Cycles 
Sky Blue has the industry's fastest dispute cycle at just 35 days. Most other competitors have 45-day + dispute cycles.
Extra Features | No Extra Charges Ever
Besides working quickly on your account by disputing as many items as they can at once, they also offer other services above and beyond just credit repair. They help by offering advice and giving you specific actions to take to help your credit profile and they help with actions to take to start rebuilding your credit.
Lastly, they are one of the only credit repair companies that offer debt validation, goodwill letters that can be sent to your creditors, cease-and-desist letters, and debt settlement consultations at no extra charge!
Trust us, you will be hard-pressed to find this quality and value elsewhere.
There is no Upgrade or Extra Charge For These Services
Debt Validation
If you get a collection letter, it is your right by the law to question the collector and have them prove that they have the right to collect a debt.
Goodwill Letters
A goodwill letter is simply a letter that explains the reason that you were late in making a payment to one of your creditors. The letter is essentially a plead to remove a derogatory item from your credit reports.
Cease & Desist Letters
This is a formal letter that is sent to a debt collector simply asking them to stop communication with you.
Disputing Inquiries
This is where Sky Blue will work with you to examine hard inquiries that are appearing on your credit reports.
ID Theft Consultations
Sky Blue offers free identity theft consulations and instructions on self-filing at no extra charge.
Debt Settlement Consultations
Sky Blue will help you with your options on negotiating with creditors to pay off a debt.
Mortgage Preperation Consultations
If you are woring on obtaining a mortgage Sky Blue will advise you on how to build lender-ready credit.
Sky Blue offers free identity theft consulations and instructions on self-filing at no extra charge.
Benefits of the Program
If you raise your credit score it can open up a whole world of opportunities.
—-> You can get approved for a personal loan, a credit card, a car loan, or a mortgage
—-> You will be able to get better interest rates
—-> You can get more credit available to you
—-> You can get higher credit limits
—-> You will get better rates on car insurance
—-> You will look better to potential employers
—-> You can get a cell phone without having to make a security deposit or without having to prepay
—-> Peace of mind
Sky Blue Credit Repair Program
Pros & Cons
Condition free money back guarantee

Personalized, not automated

You can cancel at any time

Goodwell letters at no extra charge

Cease and desist letters at no extra charge

Free debt settlement consultations
May take up to 6 months to show results
Can get tough items deleted

Excellent customer service

Free credit reports and monitoring

They help with rebuilding credit

Advanced user-friendly app to track results
Unable to help some clients
Sky Blue Credit Repair Cost
The cost of the credit repair service offered by Sky Blue is simple. There is no Initial charge when you sign up.
Then, a Review and Setup Fee of $79 will be charged 6 days after you sign up.
You will then be charged just $79 every thirty days until the completion of your program.
This fee includes all of the great features offered by Sky Blue, and no additional fees will be added on.
If you sign up with a spouse (any couple), you will receive half off of their monthly fee so they would pay just $40 per month or $119 for the both of you!
In case you are not satisfied with their services, you are able to cancel at any time with no termination fee or penalty!
Still on the fence?
Read more about the program and find the answer to the question…does Sky Blue Credit Repair really work.
Rating | 9.4 out of 10
As our number one choice for the best credit repair companies, we give Sky Blue 9.4 out of 10!
Sky Blue is a leading credit repair company that offers quality services and results. If you're looking for a way out of your poor credit problem, then Sky Blue may just be the perfect solution!
Best customer service in the industry
There is just too much good to say about this company. We know the owner and the team, and we can vouch for their character and ethical procedures, as well as their giving their customers some of the best customer service in the industry.
Sky Blue BBB Ratings
See Sky Blue Credit Repair BBB ratings, reviews, and accrediting information and how it all works according to the Better Business Bureau.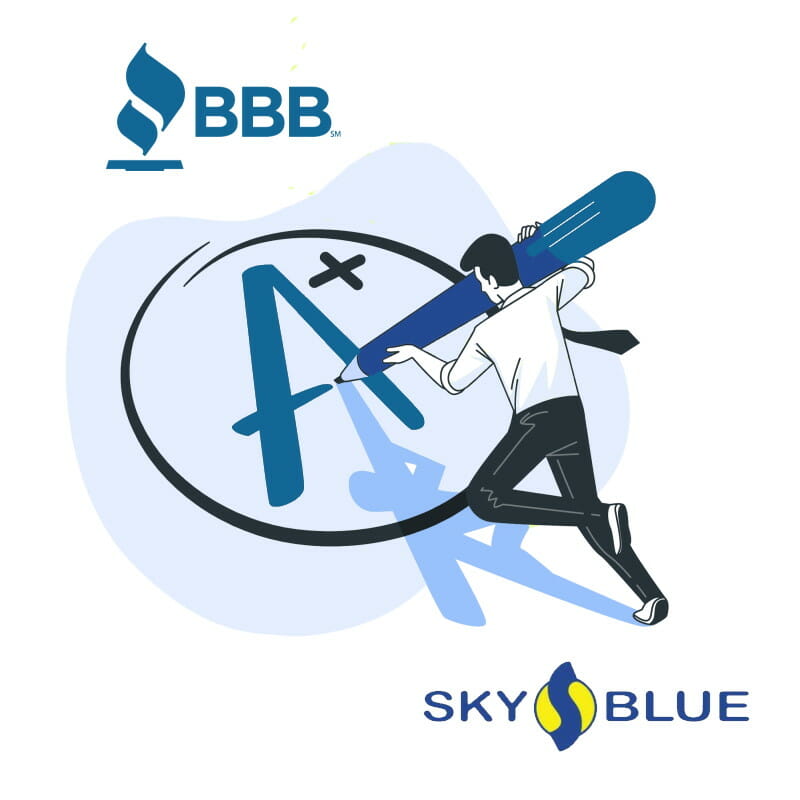 Sign up today
Sign up online to start improving your credit today.
 90-day money-back guarantee
Remember, if you are still on the fence, that you get an ironclad 90-day money-back guarantee.
Actual Sky Blue Credit Repair reviews and testimonials
An absolutely fantastic experience from the start, brilliant and friendly. I recommend Sky Blue Credit Repair to anyone with credit issues.
I've been so impressed with everything – from the customer service to the awesome results. Sky Blue is the gold standard for credit repair.
Hi Jim. I had to take a minute to write this to you. I am forever grateful for what you and your company did for my credit rating. I promise to update you on my status and what happens with the loan that you know I have been wanting. Thanks again Jim!
You provided a completely satisfying experience from day one. And now, six months later, I can tell you that your credit repair service was a life saver
I was absolutely terrified when I had to approach the fact that I had horrible credit. I did not know where to turn first. I searched Google and found hundreds of results and was confused beyond comprehension. Then I found funnewjersey.com and read their reviews because they also endorsed Sky Blue. I emailed funnewjersey.com support several times before I made a great discovery. funnewjersey.com said to call the owner of Sky Blue Jim Kemish and speak with him personally before I made any decisions which I did and boy am I glad I did! Jim put me at ease, got me into the program and cleaned my credit almost effortlessly. I was approved for my mortgage almost 7 months later (could have been sooner) but my first dream deal (house) was swept from under me which was OK because in the interim of fixing my credit, I found an even better house that was almost $32,000 cheaper! Things must happen for a reason. Thanks to Sky Blue and funnewjersey.com, my Fico score jumped from a 611 to a 704.