Lexington Law Credit Repair
Lexington Law Credit Repair Reviews, Testimonials, Results and Real Expectations of What to Expect
Lexington Law is extremely reliable and reputable

3 different payment plans ($59.95 to $99.95 / month)

Has helped half a million credit repair clients

Offers free credit report consultations

Excellent customer service

Free TransUnion report and FICO score
Results – What They Have Done For Us
Lexington Law was the very first service that we tried. One of our staff members has actually signed up for Lexington Law in order to see their services first hand. We were all happy with the results. After 9 months of being in the program, he got 19 items deleted! At the start, our staff member had 67 negative items on his credit report, and it was dropped to 48 negative items. Even better, his credit score rose from a 523 to a 592 on Experian, a 586 to a 622 for Trans Union, and a 560 to a 642 for Equifax. These scores could have gone a little bit more, but he still had 48 negative items. The numbers speak for themself; Lexington Law really works! Click here to see actual deletion letters.
Overview
As one of the biggest names in the credit repair industry, Lexington Law has been successfully repairing credit since 1991.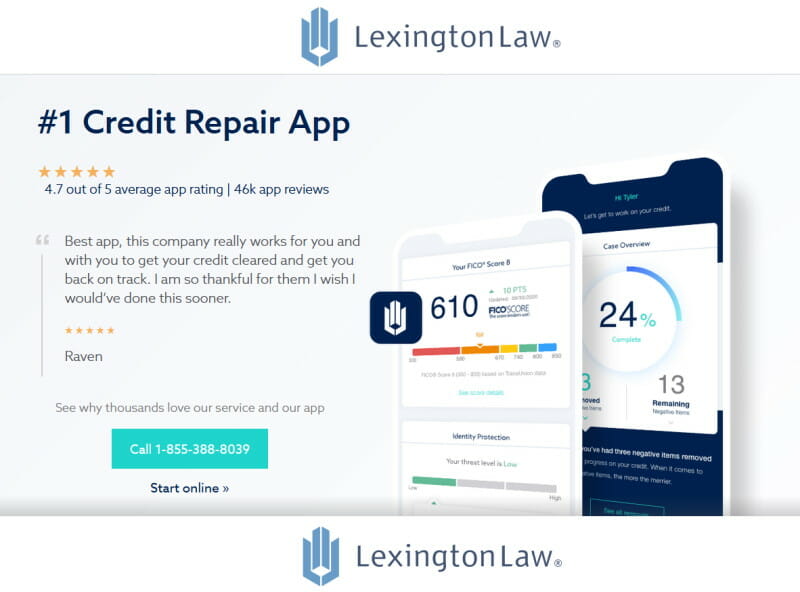 The team of credit experts and lawyers that Lexington Law is comprised of proves time and time again that their credit repair program works diligently to remove all types of negative items. Due to their many years of experience, state-of-the-art technology, and excellent customer service, Lexington Law is well-known as one of the top established players in the industry. For guaranteed results in a fairly timely manner, Lexington Law is a highly recommended choice to help you to make sure your reports are accurate.
One of the biggest credit repair firms in the world
Lexington Law is one of the oldest and largest credit report repair services around, and it is still one the best. Lexington Law was basically the founder and pioneer of credit repair as we know it today and is still the #1 trusted name in the industry that ALL of the other baby boomer associations have tried to emulate.
Service
In successfully removing all types of negative items from thousands of clients, Lexington Law has proved to be a top choice. They have been able to remove even the toughest items from credit reports, including late payments, collections, bankruptcies, liens, charge-offs, repossessions, judgments and foreclosures. Since Lexington Law is comprised of over 20 actual lawyers and over 200 paralegals, you can guarantee to be provided with the most effective and legal credit repair services. This consumer advocacy law firm will get your credit back on track within months for an affordable cost to you!
Results-driven
Lexington Law is so results-driven. This is not just a claim but in actual fact. They have helped over 500,000 clients, and they had over 10 million negative items removed from their clients' credit reports.
Real Attorneys
One of the advantages of choosing this firm is they also have of-counsel attorneys located in select states. They also offer full legal services. They have a network of lawyers that offer all different kinds of services to help clients. Clients in select states can take advantage of help with child custody, criminal defense, property and water rights, DUI defense, and many other general litigation services.
Features
To further assist their clients in their credit repair goals, Lexington Law offers a free credit report summary and credit repair consultation to everyone! If you're unsure about whether or not you would like to join a credit repair program, then you are able to speak directly with one of the reputable Lexington Law credit experts to determine which option is right for you. With Lexington Law, you will receive one-on-one attention from credit experts and lawyers throughout the country, and you will be guaranteed to see an improvement in your credit score within months.
Full Legal services
As mentioned above under their services, electric Lexington Law offers a full array of other legal services. They can also get the tough stuff removed. Examples of some difficult items are foreclosures, collection accounts, charge-offs, repossessions, and bankruptcy deletions.
It is important to note, that they go through your account and look for any loopholes. If the accounts or foreclosures or bankruptcies are more than 7 years old they can get them removed, if the lender is no longer in business they can get them removed, sometimes you might have a voluntary dismissal or there is a lack of available records. There are a lot of other techniques including contacting creditors and working out some strategies for you to get in good standing.
Amazing online content
Lexington Law has more than the average content related to credit repair available to consumers right on their website. They have great articles on understanding everything you need to know about credit repair. They even have more advanced content like how to buy a house with a foreclosure, or how short sales affect credit, and much more.
Experienced consumer advocacy law firm

They consistently get results

#1 branded name in the industry

Time tested techniques that work
Some complaints with BBB; all resolved
22 years of credit repair experience

Can help with other legal services
Different pricing models may be confusing
Lexington Law Cost
So, how much is Lexington Law a month? There are 3 answers to this. Unlike most credit repair services today, Lexington Law offers three different service levels, all at a different cost. The short answer is $89.95, $109.95, and #129.95 depending on what package you choose. Long answer below. :)
Getting started and understanding their first work fee
You can sign up today and get into their system at no charge initially. Then in 5 days after you sign up, and after they have started working on your case, you will be charged your 1st work fee of $89.95 for the Concorde standard, $109.85 for the Concorde Premier, and $129.95 for the premier plus. You will then be billed every 30 days from that point according to the respective package that you choose.
Concord Standard
This is your entry-level where they will dispute monthly for you to the Credit Bureau's as well as do creditor interventions for $89.95 per month.
Lexington Law Packages
Concord Premier
This package includes everything in the Concorde standard, but customers also get InquiryAssist, score analysis, ReportWatch, and TransUnion alerts. This package is $109.95 per month.
PremierPlus
Their top-level package is the most advanced. Clients get everything mentioned in the above 2 packages, but they also get cease-and-desist letters, FICA score tracker,  identity protection, and personal-finance tools. This package is $129.95 a month.
50% off Family and Household Discount
If you sign up with a family member or household member you would both each receive 50% off your 1st work fee.
Which plan should I choose?
This truly depends on your personal preferences. It is perfectly okay for you to come in at the Concord standard level and then you can upgrade later. The advantages of the 2 other plans are that they are very helpful in assisting you along the way so you can really keep on top of things. The alerts are cool because of something new jumps on your report you'll know right away.
 In their PremierPlus top level, we think the FICO score tracker and the identity protection, make this package desirable, as both of these services would cost extra money if you want out and did them on your own. So for that reason alone, it's worth it.
Rating | 7.9 out 0f 10
Being that Lexington Law is one of the biggest names in the credit repair industry, and provides successful results time after time, we have given them a rating of 7.9. Being that they are comprised of real lawyers and paralegals, Lexington Law is one of the most reliable, securely rooted firms in the entire industry. For a proven-to-work credit repair service, Lexington Law is a trustworthy solution!
The reason that the score is not a little bit higher, is we feel that their pricing plans are just a tad bit confusing. They are also a little bit on the higher side in price. We do feel however that you do get a lot of value for what you're paying.
Lexington Law reviews BBB:
Because they handle such a large volume with way more clients than the average credit repair firm, they, unfortunately, get a lot of unfair feedback.
They do have some bad reviews from clients' posting on the BBB website, but if you read Lexington Law's professional responses, you'll see that many of the reviews are not fair. While they do have disputes on the BBB, they have all been rectified. They are very good at staying on top of complaints. It's a shame, but a lot of customers are unrealistic and they make frivolous disputes without knowing all the facts. They do have better reviews with Consumer Affairs.
You can still confidently be sure this is one of the best and most trusted credit repair firms anywhere.
Actual Lexington Law Firm Reviews and Testimonials
Real Lexington Law credit repair reviews from real clients!
My experience with the Lexington Law Firm has been wonderful from beginning to end and the results you achieved are remarkable. It is also noteworthy, that the fee I paid for such superior professional service must be one of the truly great bargains of all time. My warmest best wishes to you all.
I have to admit I was a little skeptical at first, but after seeing what you were able to do with my credit after only a few months, it is very reassuring. Thank you for everything that you are doing for me and please pass on to your staff my appreciation for all of the hard work.