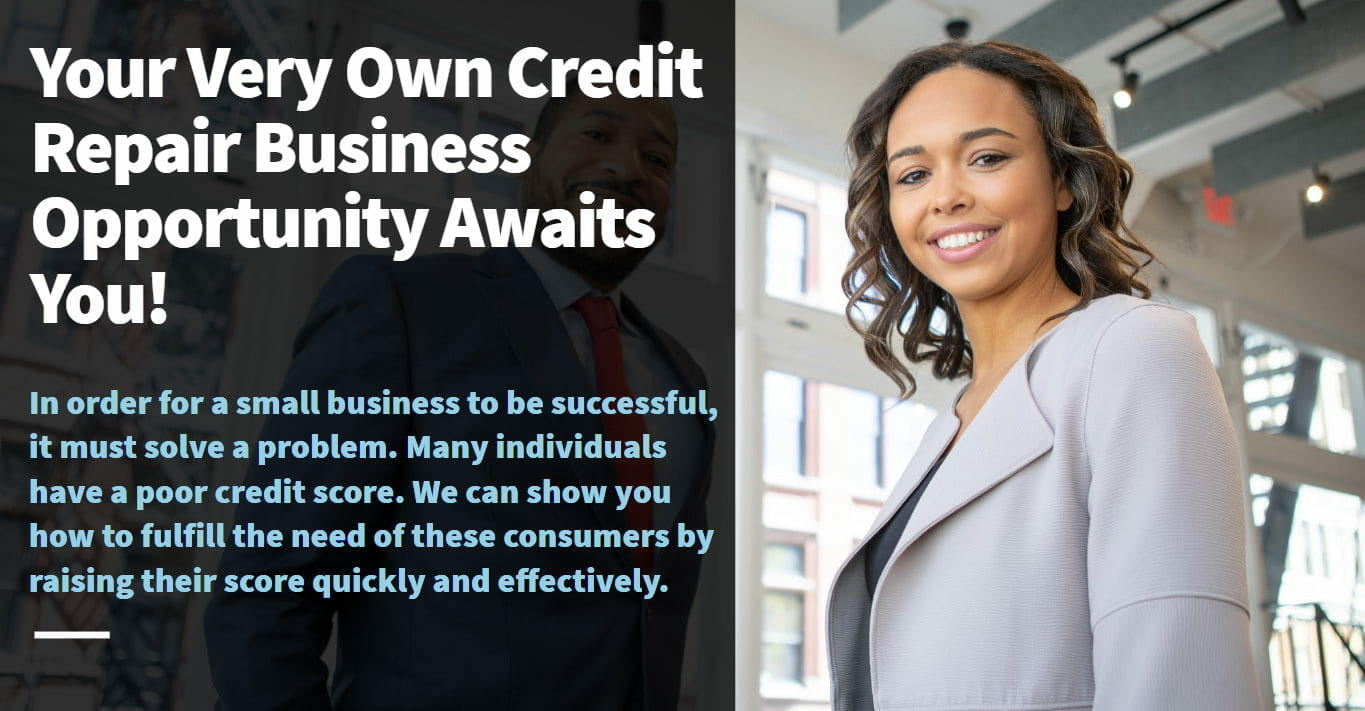 We've Got a Legit Credit Repair Business Opportunity That We Can Help You With
If you're an entrepreneur you are looking for a new lucrative business opportunity, we can help!.
Here at CreditRepairReviews.co we have partnered with a couple of companies that can help individuals get a real business off the ground even without any experience.
So if you been looking to run your own business and to be your own boss, you've found a unique opportunity where you can get a master plan and mentorship.
If you love numbers, love helping people, and are a self-starter, opening a credit repair business opportunity may be just what you're looking for whether for full-time or part-time employment.
If you have some credit repair experience, that is obviously great. But even if you do not, with our master class program and with the help of our partners you can start a business very quickly and on a small budget.
Want to get right down to it?
If you want to jump right to the free step-by-step guide to starting your credit repair business, simply click here and get going!
This online guide is chock full of everything you need to know to start a business. From starting with a business plan, getting a marketing plan, licensing, software, how to get leads, sales, and company formation. You will find it all here step-by-step presented to you in a logical order.
Let's run over some of the benefits of having your own credit repair company
You get to work from home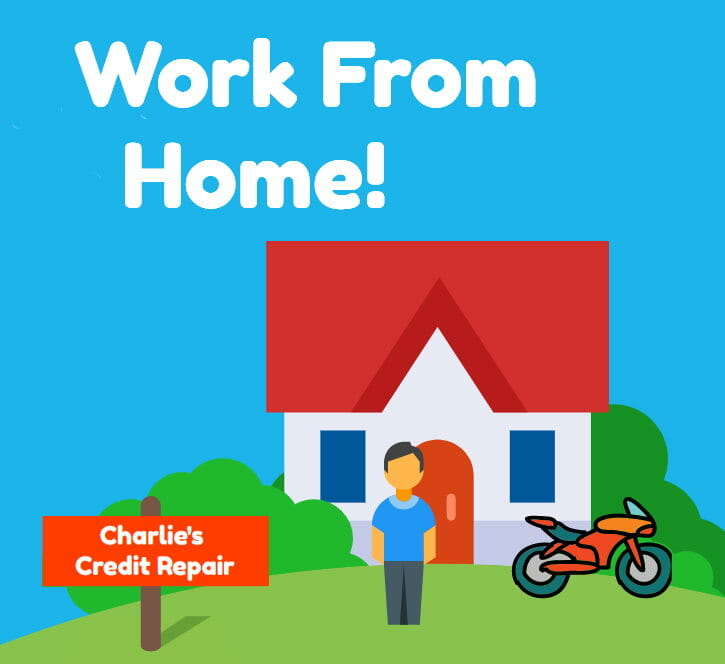 Let's start with the best overall reason to start a credit repair business – you can work from home! This is your very own credit repair home business opportunity. There are no more clocks to punch, bosses to answer to, or long, tiring commutes. As long as it takes to walk from your bed to your computer is how long it takes to start working.
Aside from the easy commute, working from home offers other benefits, including:
You get to set your own hours and schedule – If 9 to 5 hours don't work, you can set your own hours, as long as you're available when clients need you.
You get to help people
There is nothing more fulfilling than helping someone to improve their credit score so they can get into the home that they wanted or just to help them get a credit card.
You can scale your company to something very big
There is no limit to how big you build your company
Everyone needs help with raising their credit score
Getting clients is easier than you think when you know-how
You'll always be in business
A credit repair business is an economy and recession-proof business.
You save money on clothing
You can wear what you want when you work from home rather than adhering to a company's dress code guidelines.
You save money on travel
There is no need to travel to work every day
You can work when you want
If you have something to do, you can slip out and do it. No more missing your kids' baseball games or stressing about when you'll see the doctor.
Tax savings
You may write off a portion of your home office expenses on your taxes. You can write off many other types of expenses, like your computer, your phone, your software, all of your marketing expenses, and much more. Anything related to your business can be written off.
Credit repair training

If you want a profitable credit repair business, you need proper training.
We are going to just tell you right now that the number one company that we have partnered with to get people off the ground with credit repair training is Credit Repair Cloud.
Credit Repair Cloud is owned by Daniel Rosen. Daniel is a genius when it comes to running credit repair businesses. He has a couple of books out and he has a lot of experience in the field.
He has two mentorship programs. One is the certification program, the other is his masterclass.
Both are described in detail below.
We highly recommend taking one of these courses that Credit Repair Cloud offers
Training and certification is easy to obtain with Credit Repair Cloud
Option 1
Fortunately, it's easy to obtain through the American Credit Repair Academy's certification program.
Taking this certification program will put you a step ahead of the competition.
Remember, you're dealing with clients' finances or money. They need a reason to trust you and there's nothing better than having proper certification showing your worth.
Option 2
MasterClass
If you want an all-inclusive package that includes everything including training and software, then you want to take Daniel Rosen's masterclass.
Here's what you get with the Masterclass

  6 full months of complete access to the Credit Repair Cloud software

  6 weeks of full training of the Build Your Business Masterclass

  Easy to use point and click software

  6 months of hosting included

  Sales scripts

  Consultation scripts

  Affiliate scripts

  Live training with professional partners

  Daniel Rosen's credit repair essentials course

  Audiobook and copy of Daniel Rosen's credit repair book

  A complete guide that will teach you from start to finish on how to do creditor and credit bureau disputes

  Access to the credit repair cloud private community which currently has over 8000 experts

  How to get clients

  How to get affiliates to do the heavy lifting for you, and much more!
Other options and resources for your credit repair home business opportunity
If you are experienced, or on a budget and you do not want to go through a training program but you still want to take advantage of us helping you with a legit credit repair business opportunity, you can dig around our site to get some more information. Our step by step guide on starting a credit repair business from home is a great place to start. You can also check out our reviews of the best credit repair software companies. We also have a 10 step credit repair guide that covers the basics that you can check out.
Tips on getting clients
For the most part, learning the tricks of the trade for credit repair is the easy part if you've done training or if you already have the experience with credit repair or are running a business in general.
The hard part, (and this does not only apply to credit repair businesses, but it also applies to all businesses) is getting leads. And ultimately turning those leads into customers.
Finding Clients is Easier with Social Media
When people look for help with their finances, they want someone they can trust. How do they set you apart from the hundreds of other credit repair specialists they find? You need to provide value before asking for money, that's where social media helps.
Set yourself up as a community leader – someone that offers free advice. Offer as much value as you can. When you offer tips and get the following on your social media sites, you naturally bring in your target audience who trusts you enough for them to become a client.
Meet with your potential clients
If you have an office that is perfect. If you don't have an office you could meet them in busy cafés or juice bars. Other ideas would include restaurants, hotel lobbies, or small hourly office rentals or co-working spaces.
Meeting with clients and showing them that you're an expert firsthand is one of the best ways to generate new business. There are a lot of shady online companies and consumers quite honestly really at times don't know what kind of quality they're going to get.
You can gain trust quickly by meeting with a prospective client. You can also start a word-of-mouth referral program so that if the client refers one of their friends or family to you they can get a free month of credit repair or whatever incentive you decide to choose.
Use PPC
A question that we get asked quite often is should I use pay per click to drive leads.
The answer is an absolute yes.
Especially to help yourself get off the ground, media buying will give you an edge.
If you're not sure how to do pay per click you can outsource it.
Start off with a small budget and see how it goes.
Unfortunately, right now Google is not allowing credit repair companies to use their platform to generate leads. But there are other options like Microsoft ads.
How much money can you make with the credit repair business opportunity?
Check out this really cool credit repair revenue calculator.
Automating and scaling your business
The key is automation.
Bringing in new clients is a lot of work. If you had to manually welcome each client, send introductory emails, and then provide educational emails, it would take up most of your time. Bringing in new leads, offering value to the community, and living your own life would be difficult.
Fortunately, you can automate the steps needed to welcome new clients. With the right credit repair software, you can welcome clients, get them started, and then start your counseling or coaching once they're acclimated with your ways and are ready to jump on board with your process.
Summation
If you have a passion to help people better their financial lives, an exciting new credit repair business opportunity is waiting for you.
If you can work from home, stick to a schedule, multi-task, and truly want to help others with one of the most vulnerable areas of their lives, then you should seriously consider the opportunity.
You'll increase your income while bettering the lives of others in ways that could not manage themselves.
To get started you can simply visit our complete FREE training on starting a credit repair business from home.
You can sign up for the American Credit Repair Academy's certification program.
Or you can take a look at what you get with the all-inclusive masterclass training.