unbiased-disputebee-reviews
Dispute Bee Reviews | Perfect Software To Start Your Credit Repair Business
Here is a full in-depth review of the pros and cons of the DisputeBee software.
What to know if you are considering this software
Running a credit repair business is not an easy task. Growing your business and managing all of your clients can be even more daunting.
If you are a newbie, Dispute is a really solid option to getting your credit repair business off of the ground.
The software will take care of having all of your clients' information in one place.
It will organize your dispute process against inaccuracies on your clients' credit reports.
DisputeBee is a really strong and reliable software to start a credit repair business and improve your or your client's credit score.
So let us have a closer look at the DisputeBee review and how this software will help you to run your business.
What is Dispute Bee?
Dispute Bee is a reliable, professional, easy to use affordable credit repair software.
It is essentially a customer relationship management tool to manage all of your clients and their activity in one database.
It is a fully automated system that helps you with the process of generating dispute letters quickly and easily.
The software works for both individuals or companies
Individuals – $39 per month
If you are an individual who wants to do your own credit repair for yourself and your friends and you want to remove inaccuracies on your credit report, this software will do the job for you.
Running a company – $99 per month
On the other hand, if you are running a credit repair business, the business plan on Dispute Bee helps you generate dispute letters for your clients with one-click.
The business package allows you to add an unlimited number of clients to the software and raise disputes on their behalf. If you have a team of members, you can also add unlimited members on board to help you to run your credit repair business smoothly.
Is this the Best Software For Credit Repair?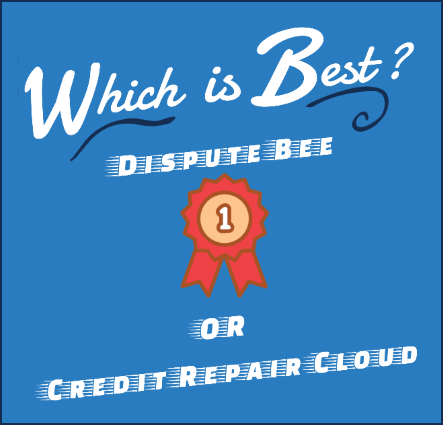 While we do like DisputeBee for getting started with your credit repair business, we feel that is not the best choice for growth.
There is another kid on the block called Credit Repair Cloud.
Credit Repair Cloud offers in-depth free training to help its users to get their businesses going fairly quickly.
They also have so much informational content and videos that are loaded with tips and tricks. The monthly fee for use of their software costs a little bit more but we feel it's worth it for what you get.
See our full review of Credit Repair Cloud.
You do not get the training or the comradery with DisputeBee that you do with Credit Repair Cloud.
But if you are on a budget and do not need anything fancy as far as software goes, then we still do highly recommend DisputeBee.
Why Dispute Bee is a Must-Have Software For Credit Repair Business Owners – A Detailed Review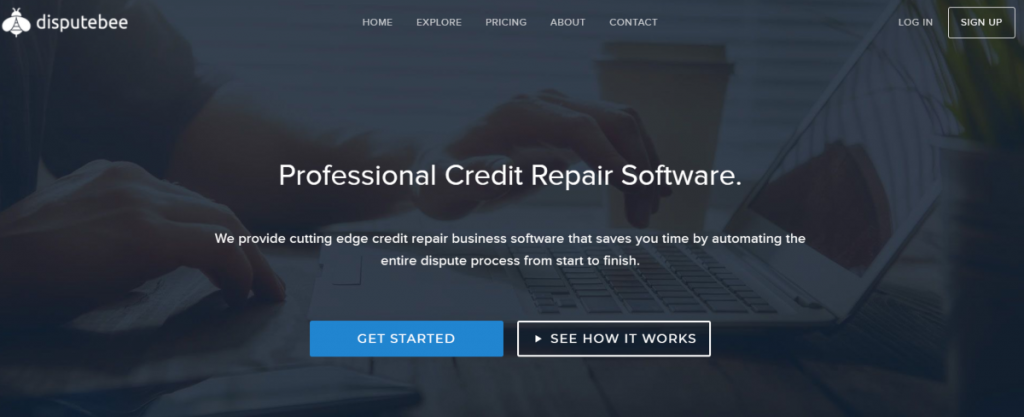 DisputeBee Review
DisputeBee is a dedicated software that will help you to create disputes against inaccurate entries on your credit report or for your clients' credit report. Removing inappropriate entries will help you to boost your clients' credit scores.
When opening a credit repair business, you don't necessarily need sophisticated software as you could certainly use spreadsheets in the beginning, but it is recommended that you start with some sort of customer relationship management tool. One that your business you can grow into.
DisputeBee is a good option because it offers automation to raise disputes in bulk for your clients. Moreover, it creates automated letters for your disputes and merges related disputes into a single letter.
Now, that's what you call smart credit repair software.
DisputeBee is also an easy to use software; It features one-click credit report and letter templates. The business account allows you to manage the disputes for multiple clients and allows you to add unlimited team members for smooth operation.
The software also helps you to keep the disputes and entries in a very organized manner.
Take a moment and visit the DisputeBee website.
How Dispute Bee Works in 3 Simple Steps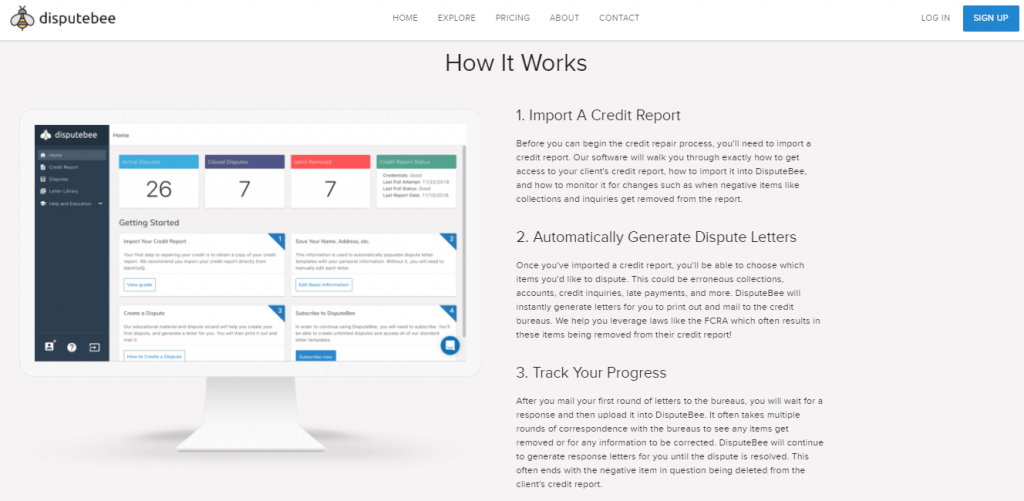 1. Import Your credit report
The software walks you through the process of accessing your clients' credit reports and importing them into DisputeBee.
2. Generate dispute letters
You then look through the reports and decide which items you would like to dispute. You will want to dispute erroneous items like street addresses, erroneous collection accounts, inquiries, and any other misleading information. If you wish to edit your letter (and we recommend that you do so that it looks 100% natural), you can use the edit tool and make any changes or add any additional information to it. Once the letter looks good, you can print it and mail it to the respective bureau.
3. Track the process of your disputes
When the credit bureaus respond to your disputes, simply upload the info into DisputeBee and then wash, rinse and repeat the process.
Of course, we are skimming on the surface as there are advanced techniques to successfully disputing to the credit agencies, but the software gets you off to a great start.
Quick Tips: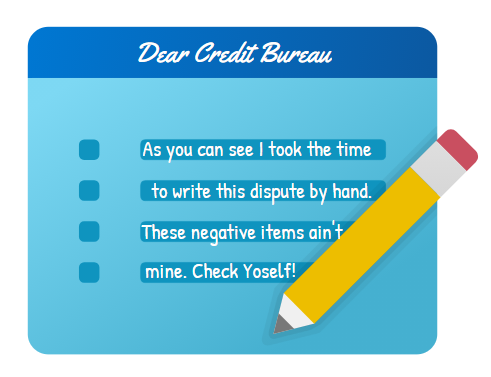 Sometimes it is a better idea to hand-write the dispute letters. Simply do it yourself or have an agent do just that after you print it from DisputeBee. Have them add their personality to the dispute letter. It looks less automated that way.
DisputeBee helps you to dispute with all three agencies (Experian, Equifax, and TransUnion).
It usually takes multiple rounds of correspondence with bureaus to make sure the item is removed from your credit report. Do not give up after just a few rounds.
See how to effectively write a dispute letter that works.
In general, when you send a letter of Dispute to bureaus, it takes about 30 days for them to review the dispute.
If you have not already checked out our guide on starting a credit repair business from home, we recommend that you take a look at it as it is chock full of information on getting your credit repair business venture off of the ground!
DisputeBee Review: Pricing
There are two pricing options with the DisputeBee software; individual plan and business plan.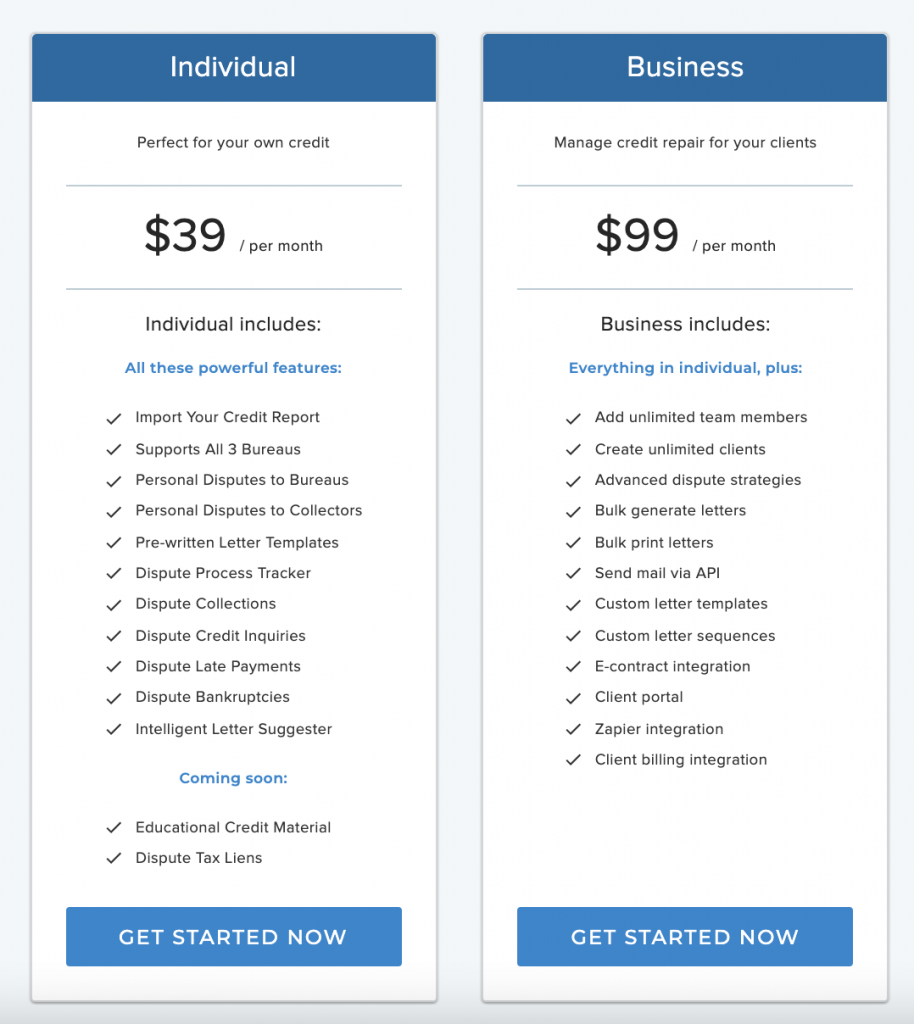 Let's discuss the pricing:
1. Individual Plan – $39 per month

The individual plan is great if you want to use DisputeBee for personal use. It supports 3 bureaus and helps you improve your credit score with tracking. With the individual plan, you can create Dispute letters for the credit bureaus, credit card companies, and collectors.

The pre-formatted and intelligent letter suggester makes it easier to prepare custom dispute letters for you.

The additional features include help with disputing collections, late payments, and even bankruptcies.

We love DisputeBee for its price and value for the individual plan. The individual plan will cost you $39 per month. Also it is a great option for DIY credit repair compared to other credit repair alternatives.

View the DisputeBee website for more information.

---

2. Business Plan

Owning a credit repair business will absolutely require you to stay organized so you can manage business smoothly.

You will constantly have new clients overlapping your current clients and keeping track of all of the information. So it can and will become very difficult.

The business plan on DisputeBee helps you to achieve this much-needed organization in a very straightforward manner.

Unlike the individual plan, you can add an unlimited number of clients in a single go.

All you need is credit reports of your clients and you are good to go. Additionally, business owners can add multiple team members (employees).

The advanced disputing strategies help you to manage all the bulk disputes and generate bulk letters to save time and generate more business.

Not only you can generate bulk letters, but you can also customize these letters and their sequences.

Here are some more features that are available on the business plan

Unlimited team members
Unlimited clients
Advanced disputing strategies
Bulk letter generation
Easily print dispute letters in bulk
Send mail through API
Customized letter templates
E-contract integration
Zapier integration
Client billing integration
Dedicated client portal

But there is something more when it comes to the business plan; a dedicated dashboard for your client.

The pricing is also reasonable at $99/month which is less expensive than most other credit repair software

View the DisputeBee website for more information.

---
Dispute Bee Review: Frequently Asked Questions
1. Do you need to be an expert to use Dispute Bee?
DisputeBee is a user-friendly tool and anyone without having expert knowledge can use.
2. Is it legal to charge for credit repair?
It is illegal to charge for credit repair before actually performing it. The Credit Repair Organisation Act (CORA) protects consumers by making it illegal to charge before clients before actually doing actual work for the client.
3. How do I repair my credit using Dispute Bee?
Start with collecting all the inaccurate information that is showing up on your credit report. Send out dispute letters with the correct information to the respected credit bureaus. After a thorough check, if there are any inaccuracies found, they will be removed and your credit score should boost.
DisputeBee Review: Final Words
DisputeBee is a one-stop credit repair software for your business. It is completely automated from the start until the end. What I love most about DisputeBee is the pre-formatted letter templates and bulk generators that make the work much simpler. Moreover, there is an option for E-Contract integration that makes it stand out in the market.
If you are searching for reasonably affordable and quality software for your credit repair business and have any confusion, we hope that this DisputeBee review has helped.
DisputeBee is a good credit repair tool when getting started with a credit repair business.
View the DisputeBee website for more information.